GRAVE TALES OF THE HAUNTED CITY
AN ALLEYWAYS AND SHADOWS GHOST WALK
Imagine alleyways so narrow and so historic that the mere act of walking into them is like stepping back in time.
Imagine churchyards so creepy and so atmospheric that you can sense that the eyes of those buried in them are watching your every move.
Imagine old buildings that have witnessed far more than their fair share of tragedy and happiness, so much so that every pore of their fabrics seem to cry out to you "THIS PLACE IS HAUNTED".
Well, imagine no more - for these are the locations that you will visit and uncover on Richard Jones's Saturday night Doomed and The Dead haunted London walk.
A HAUNTED UNDERGROUND STATION
Did you know that Bank Underground Station is one of London's most haunted underground stations?
No?
Well it is, and so that is why it has been chosen as the perfect starting point for a ghost walk around the City of London's haunted hotspots.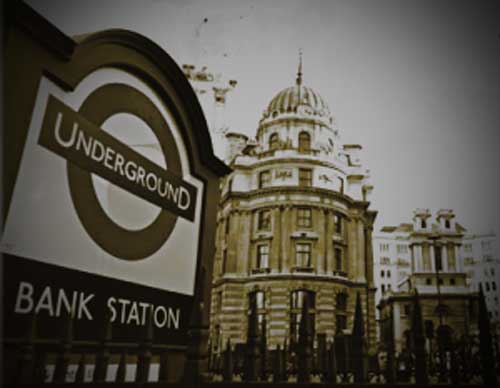 Which means that, if the certain something that haunts the station's depths just happens to be stirring as you begin your journey to the surface, you may be able to get the evening off to a cracking start by experiencing a ghost before you even join the ghost walk!
The question is, will you actually realise that you have encountered the ghost?
A HAUNTING WE WILL GO
Having creeped you out you with the chilling tales of the ghosts that reside in the depths of Bank Underground Station, Richard will lead you down a narrow alleyway and, seconds later, you will find yourself in a warren of similar-looking alleyways that are as atmospheric as they are historic.
The well lit streets of modern London will be a mere stone's throw away, yet these alleyways are so indicative of bygone times that you wouldn't be in the least bit surprised if a top-hatted, jovial gent were to come strolling around the corner and tip his hat in welcome.
THE DEVIL'S BREATH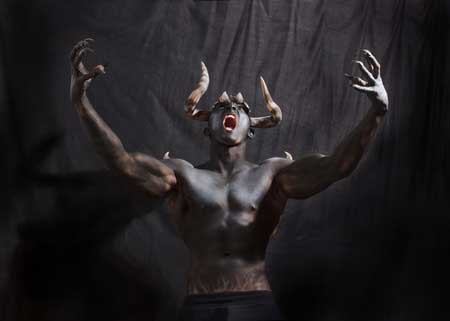 Unfortunately, it is a thing with more malevolent intent that haunts these alleyways.
For it is here, so legend holds, that night time wayfarers may well feel the icy blast of devil's breath on the back of their necks as the foul stench of his hellitosis (sorry, couldn't resist that one!) fills their nostrils.
Now, to be honest, whoever, or whatever, is responsible for this chilling phenomenon is an invisible entity that nobody has ever actually seen. We cannot, therefore, say with any degree of certainty that it is in fact the devil that is the originator of said icy blast
So please forgive the artistic license of the image our artist in residence has come up with, which he believes is as likely a likeness of whatever creature is responsible for the phenomenon as any.
MR SCROOGE, I PRESUME
Having recovered from the awfulness of the evil one's breath - and from the awfulness of the hellitosis joke - we delve further into the old alleyways and arrive at the very location at which Charles Dickens began his most ghostly of ghostly tales A Christmas Carol. For it was here, in this twilight world of gathering shadows, that he set Scrooge's counting house at the start of the novella.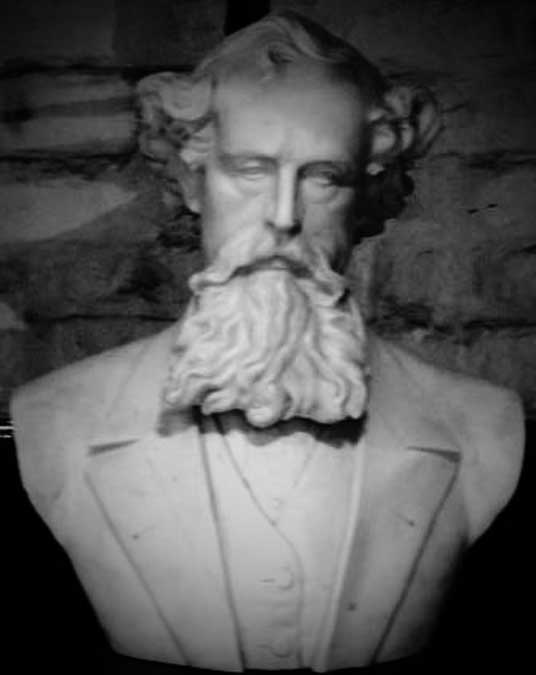 Dickens himself is still here - well, a bust of him is - perched upon a window ledge keeping a watchful eye on the comings and goings inside one of the City's most historic hostelries.
It dates back to 1600 and it was here that Sir Francis Dashwood founded his notoriously nefarious Hell Fire Club.
It is also the first location on the tour where participants regularly capture a ghostly face on their cameras, and Richard will allow plenty of time for you to try and do likewise.
A FILM SET CORNER OF LONDN
Onwards we go into the London night, twisting our way through more of the narrow alleyways that snake their way past and between old buildings and ancient churches.
Indeed, many people on the tour are surprised by just how incredibly old these streets appear, and they often comment that it's almost as if they have strayed onto a film set.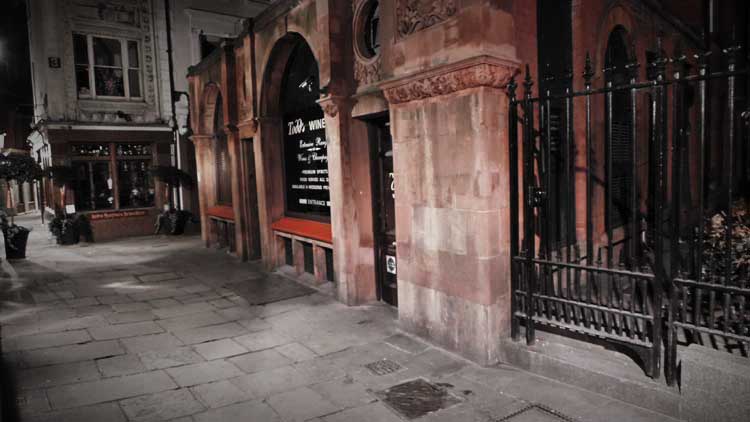 Actually, in a way, they have, since numerous television productions and films are shot in these alleyways at weekends and we often encounter the crews and the actors as we weave our way through them.
THE TOOTH IS OUT THERE
These wonderful thoroughfares will deliver us to a tiny churchyard, where Richard will tell you a very unnerving ghost story about a former parishioner whose teeth - yes teeth - were the envy of the parish.
Upon his untimely death, the bodysnatchers came to hear of his marvelous molars and decided to liberate them from his clenched, dead jaw.
This caused his indignant spirit to appear at his father in the dead of night and implore said aged parent to come to his assistance.
At first, the father, dismissed the bedside spectre as a dream.
But, so persistent was the distraught ghostly visitor, that he decided to investigate and, arriving at the churchyard he found, to his horror...... all we be revealed on the ghost walk.
MORE GHOST STORIES TO CHILL YOU
Night will be coming on fast by this time, and the ghosts of the City may well be stirring - eager and ready to walk their time-worn paths through the historic heart of London.
You'll hear of the "Lady In Black" whose ne'er do well of a brother ended up dancing a jig at the end of the hangman's rope; a fate that proved so traumatic for her that her spirit has walked the City streets ever since asking passers-by the simple, though chilling, question "have you seen my brother?"
You'll enter the cobbled courtyard from which a family who joined the tour on Halloween 2005 took away a little souvenir and found that they had also acquired a lot more than the innocuous looking item they had gone off with!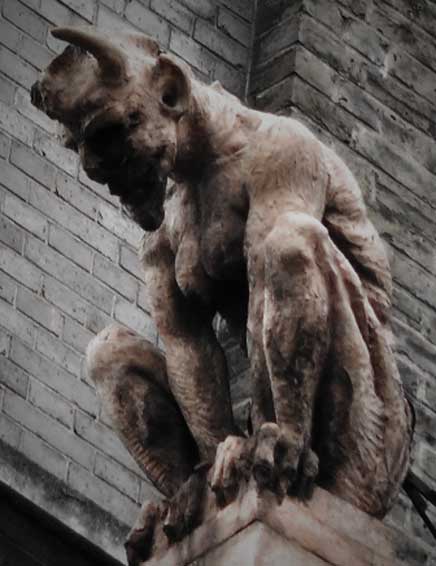 You'll gaze up at a devilish figure that squats high on a rooftop ledge spitting a curse down on the little church below. He remembers a long ago feud between the church's vicar and the architect who was commissioned to design the building.
You'll learn of the phantom waiter who is not about to let a little thing like death prevent him from carrying out his duties.
You'll discover the little alleyway where a paranormal investigator once captured a terrific example of EVP when he managed to record a sinister voice telling him, in no uncertain terms, what he could do with his recorder!
You'll get to admire the soaring splendour of London's medieval palace and learn of the ghosts, some of which go back to Roman times, that are known to haunt it.
A RITUAL FOR RAISING THE DEAD
And, if all that holds insufficient allure to tempt you out onto the streets of the haunted City, then how about our grand and creepy finalé?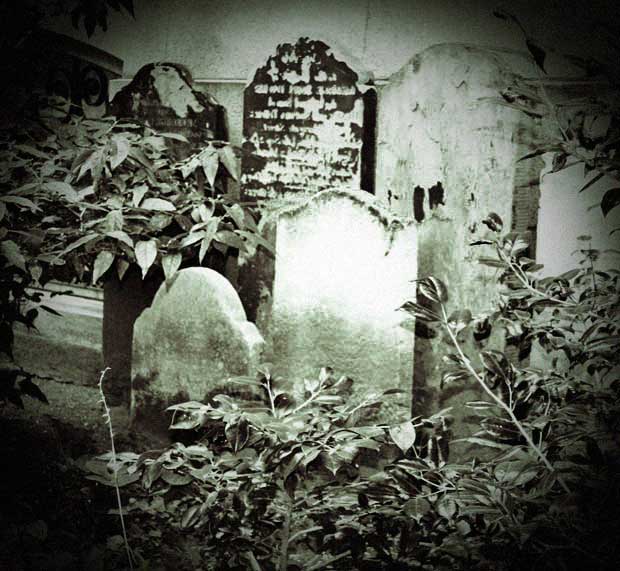 We'll gather in an old churchyard, and stand by one of its most prominent graves.
Here, Richard will tell you of the local tradition that, by performing a particular ritual, it is possible to raise the spirit of the person who lies beneath the solid stone slab. Indeed, he'll go so far as to tell you exactly what the necessary ritual is.
Whether, having learnt the ritual, you wish to act upon it is entirely up to you, for it is said that whosoever summons the spirit forth will then be duty bound to stake that spirit home with them and it will haunt them for the remainder of their days.
A NIGHT OUT WITH A DIFFERENCE
So, if you are looking for a night time activity that is spooky, entertaining, informative and different, then join acclaimed author and accomplished storyteller Richard Jones, for a creeper of ghost walk that will delve deep into the City of the Dead where a host of immortal souls have been just dying to make your acquaintance.